Softly
A spring mattress which provides the right comfort for the body.
Sunrise
A firm bonnel spring mattress, upholstered with long-lasting firm PU rebound foam which is sumptuous and durable.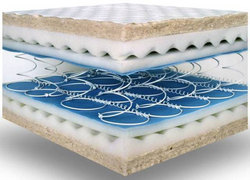 Springland
A special bonnel spring mattress with layers of superior high density PU foam make it exceptionally comfortable and supportive.
Elite
With its generous layers of high resilient and PU foam, it offers a high level of comfort with increased support.